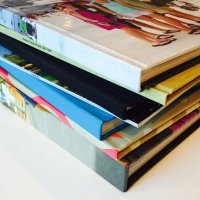 Photo books are a great way to tell your story. They make wonderful gifts for special occasions and can be passed down through generations.
Cherish and preserve your memories with albums for weddings, new babies, travel adventures, anniversaries, birthdays, celebrations of life and years-in-review.
Let your creative juices flow with personalized children's books, family cookbooks, children's artwork, coffee table photography portfolios and genealogy studies.
Professionally demonstrate your business' products and services, as well as your rich history and compelling brand culture in book form.